VoIP Telephony

UPDATE – November 2019
Microsoft have announced that at long last their VoIP add-on for Office 365 Teams is now available for the Office 365 Business plans. Previously this has only been available with the much more expensive Enterprise Plans. See here for our blog post about it. This means we will shortly be able to offer VoIP fully integrated within your existing Microsoft Office 365 Business Essentials and Premium plans.
VoIP telephony should be on every Small and Medium sized businesses agenda.
VoIP has the ability to cut business costs and boost productivity.
Firstly there is the potential to save on analogue or ISDN line rentals. Why rent 10 lines every month when you could put all your voice calls over a single internet connection?
Secondly if a business has branch offices or teleworkers the chances are that you are paying considerable sums each month making calls between those sites. With VoIP system all those calls can be FREE.
With our VoIP systems we provide the option of digital call recording. This allows businesses to record all calls made to, from and internally over the VoIP network. Never again will a client be able dispute what was said in the course of a call. Our clients have used this facility to successfully stop disputes in their tracks by simply replaying call recordings. With our web based admin console call recordings can be search for by date, telephone number or call length and either simply replayed down the phone or downloaded and saved.
Finally our call rate tariffs to traditional phone numbers are very low, probably lower than your current ordinary provider.
Hosted VoIP vs On-Premise VoIP?
We offer two ways to implement VoIP – either a hosted platform or an on-premise VoIP server.
We can guide you through the decision process to determine what is right for your business. Our analysis will include your internet connectivity, call volumes, existing I.T. infrastructure and number of extensions.
Guide Pricing – hosted telephony
£6 + VAT per extension per month plus calls
Typical call costs + VAT (correct as of March 2019)
Geographic calls  to 01, 02, 03 numbers: 1 pence per minute
UK Mobiles: 6 pence per minute
*min. 5 extensions.
Includes 500 minutes of call recording per month
extra 1000 minutes of call recording per month is £5 + VAT

Pricing – On-Premise telephony
Our new range of Yeastar PBX will be listed here shortly

Yeastar S20 PBX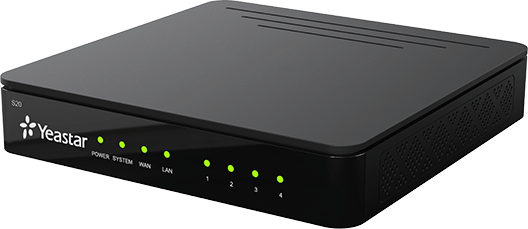 20 extensions
10 concurrent calls
Lifetime software/firmware updates
Built-in call recording
Linkus softphone client
Add-in modules available – GSM, 3/4G
Up to 4 FXS/FXO/BRI Ports
Phone provisioning for Yealink, Snom, other phones.
Cost              From £245 + shipping + VAT